I am only accepting editing bookings from previous editing clients. I cannot take on new clients at this time. My schedule is booked a year in advance now and as I'm working on several series, consistency is important to those clients.

Existing (and previous) clients, please book as usual, but check my availability.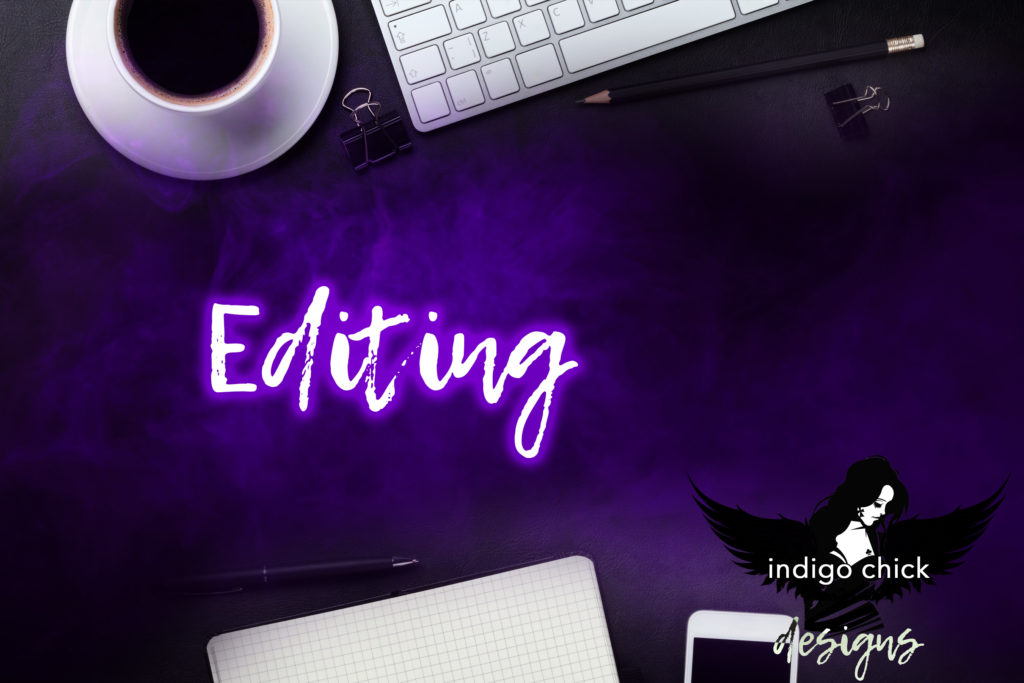 Whether you have a finished manuscript or one in progress, Indigo Chick Designs offers three distinct services to fit your needs.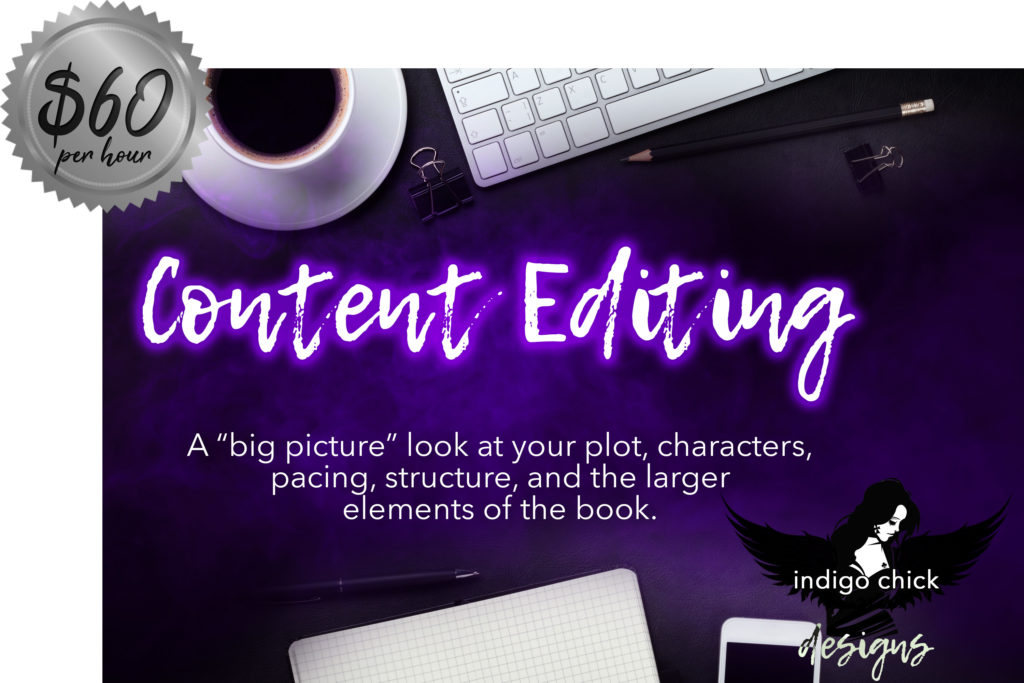 Also known as "substantive" editing. This includes looking at plot, characterization, structure, and pacing. You will receive an edit letter (this varies from 3-7 pages) from me with my thoughts on the manuscript's strengths and weaknesses, as well as my suggestions. I read 6K – 10K words an hour for content editing, on average, and take notes during this time. The cost is $60/hr.
---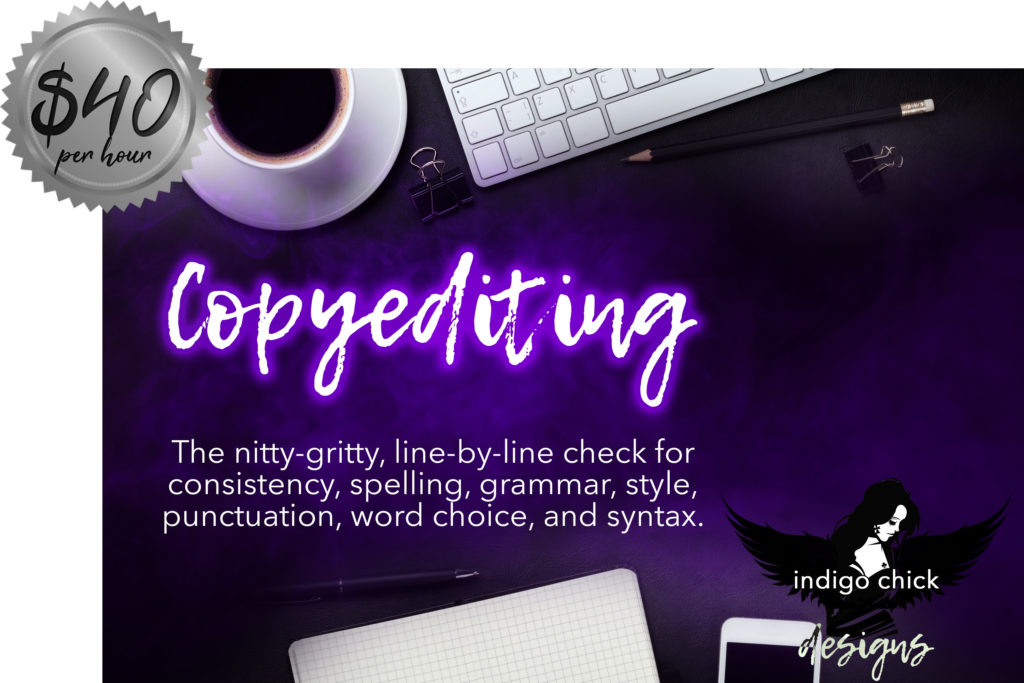 Copyediting is a line-by-look at the manuscript. This includes checking spelling, punctuation, and grammar, as well as style consistency and word repetition, word choice, syntax, and for clarity. I use the Chicago Manual of Style as a reference and Track Changes in Microsoft Word. The average number of (properly formatted) pages per hour can vary from 10-25. This service is $40/hr.
---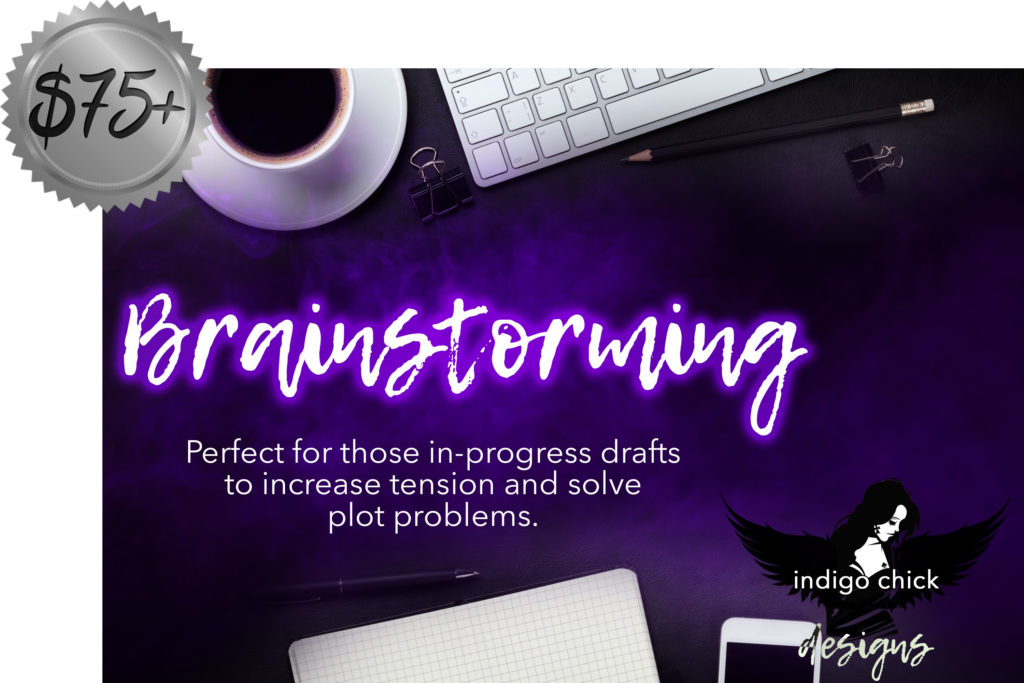 If you're struggling to up the stakes or brainstorm solutions to plot problems for an in-progress draft, this service for you. I'll take a look at some of your writing, your outline, and do some back and forth brainstorming with you. The cost varies depending on how much you want me to look at, and if more back and forth sessions are needed, those can be added on as well. This service does not include any editing.
---
I do not offer proofreading services (I catch as many typos and manual errors as I can, but I do suggest someone else give your MS a final once-over before publication if your edits require you to do a lot of revision). I also question a lot for accuracy, but I am not an actual fact-checker and expect the author to have done research.
In a nutshell: substantive editing is looking at the big picture–your plot, characters, pacing, etc–while copyediting is looking at the text on a smaller scale. Brainstorming is a bit like very specific, directed content editing on a particular part of an unfinished work.
---
Further Details & Frequently Asked Questions
Hours? Not per page?
I do this per hour and not per page as I've found time spent can vary greatly depending on the work. If you're an experienced writer, it likely won't take as long to copyedit your work as it would a new writer. This is also why it's in your best interest to deliver a later draft rather than a first one to the person editing your work (whether it's me or not); that extra polish saves you money. That isn't to say you can't send me an early draft to work on, but understand the rougher shape something's in, the longer it will take.
Expect the average-length manuscript edit to cost $300 – $800.
That's too expensive!
That's cool! My services aren't for everyone. This is why I'm upfront about my fees rather than making people contact me for a quote. I've also found in most cases this ends up being cheaper for you, the writer, than a per-page arrangement ($2 – $3/page, assuming 250 words per page). If you have a particular budget in mind and would prefer to arrange a per-page cost instead, we can discuss it, but it will be in the range I've listed in the previous sentence. I will require half of the money upfront with the other half upon delivery of the final manuscript.
Why not copyediting and content on one manuscript?
I also do both of these separately because I can't be as effective at noticing substantive issues if I'm focusing on the nitty gritty sentences and vice versa. It's recommended that if you book me for substantive editing, you hire a copyeditor afterward to go line by line with you and check for style consistency, for example. It is always to your benefit that you hire a proofreader after you've been through several rounds of edits. If I'm doing a content edit and I notice repeated copyedit issues, I'll let you know; likewise if I'm doing a copyedit and I notice things that should be looked at by a content editor, I'll tell you.
If I've noticed some large-scale things while copyediting, I will ask you if you'd like any additional comments. At that stage of editing, you might not be interested in making large changes, and are welcome to decline such feedback.
If you would like recommendations for other developmental and/or copyeditors, I can point you to several other people either I've worked with or know others who have worked with.
If a substantial period of time has passed between me doing the content editing on a book (six months or more) and you would like to book me as a copyeditor, that's fine. The more familiar I am with the text, the more likely I am (or anyone is) to miss something–as you probably know with your own revisions as the writer–which is why I won't do back-to-back edits on the same work.
What will you do to my manuscript?
I'm not going to "make it bleed"–at least not in the scary-editor-sense. I don't hold back but I always endeavor to be kind and supportive when offering a critique. You are not required to accept my edits, but since you're paying me for my opinion, I kinda suggest giving them a lot of consideration.
I do not do rewriting. I am fairly "hands off" when it comes to problem areas; I prefer to highlight where I have an issue, explain what my issue is, and offer a couple of solutions, but I leave correction of that up to the author (with the exception of style/grammar/etc errors). You know your work and your voice best, and I have no desire to insert myself into your book. Again, it's up to you how you handle my suggestions. If we've worked together several times and I have a better sense of what you're comfortable with, I might be a bit more hands-on if it'll work best with you.
I also will not mark up a manuscript just for the sake of marking it up. A lot of new editors do this, sometimes so eager that they insert errors. The point of editing is to ensure the author's message is clear for the reader. I will highlight anything that detracts from the message (in content editing, that could be cutting a scene for pacing, ensuring character motivation is clear, etc; in copyediting, that can mean watching for repetition and redundancy, ensuring overall consistency so the reader isn't drawn out of the story). I will not tell you to use a different word from one that is perfectly serviceable just for the sake of leaving my mark on the MS.
What do you need from me?
I'll need you to order the service through the site so I know what you're booking, along with a down payment. I'll touch base with you about where your manuscript is in the queue and see when you're ready to deliver it. At any point prior to when I start working, you can send the manuscript in doc, docx, or rtf format. Don't worry about font/formatting, I tend to change that to my preference before I start working.
The down payment breakdown is as follows for content or copyediting:
$50 for shorter works (49 999 words and below)
$100 for novel-length work (50 000 – 99 999)
$150 for longer novels (100 000+)
For brainstorming, the flat fee is dependent on how much of the manuscript you want me to read.
10K words + outline is $75
15K words + outline is $100
20K words + outline is $125
How long will it take?
Shorter end is 2-4 weeks for a full-length novel, but it could take up to 6. For example, if I'm booked for the next four weeks when you order, that turn around doesn't come into effect until after those projects are done. It can vary depending on my schedule and workload, as well as the state the manuscript is in. Regardless of what artist or editor you work with, booking well in advance of when things are needed is usually best. I personally take on very few editing clients. If you have a particular timeframe in mind, check my availability. Before scheduling a book for publication, always leave yourself time to revise after edits.
What else do I need to know?
I use Microsoft Word and Track Changes. I'll require you to send me your manuscript in doc, docx, or rtf format. If you don't have Microsoft Word, you can also use OpenOffice, which is a free word processor and will allow you to view my changes.
What's your experience?
My experience is primarily with all types of speculative fiction (urban fantasy, traditional fantasy, softer science fiction, and paranormal romance) as well as erotic works of all sub-genres, and some cozy mystery and thrillers. Young adult and new adult is fine as well as adult work. I am probably not the best choice for hard science fiction, Christian fiction, historical, or literary work, however I'm open to discussing it–please feel free to contact me.
I will not work on books with rape-as-titillation, pedophilia, or bestiality (aliens/shapeshifters are fine). I am also not a good choice for books with romanticized/idealized abuse ("it's okay that he's stalking/controlling/molesting me, because he's hot!"…no, just no); if intimate partner violence is depicted, it should not be condoned/sexy. And I'm not talking about actual SSC/RACK BDSM here–that's fine, and yes, I have a moderate understanding of the lifestyle and can work on those books. Also not a big fan of violence against animals, and if someone kills a puppy in your book, I'd appreciate a heads-up. Otherwise, there's not much I'll find objectionable.
Please also note that my editing is not a replacement for sensitivity readers and proper research if you are writing outside your experience. I endeavour to point out problematic content and slurs insomuch as I can given my privilege, but I'm not replacement for someone with actual lived experience you're attempting to write from. (Unless you're a man trying to write a white woman, or you're writing about someone bipolar.)
A sampling of published books I've worked on include the following (some are for content editing, others for copyediting; some were for a publisher, but most are self-published):
A Song to Wake a Thousand Sorrows by Michelle Manus (forthcoming)
The Silverthorn Protocol by Dina James (forthcoming)
Trouble Wore Red by Chris Lewis (forthcoming)
Killer's Kiss by Keri Arthur (forthcoming)
Guardian of Torment by Michelle Manus (forthcoming)
Daughters of the Rose by K.L. Bone (forthcoming)
Ring of Ruin by Keri Arthur (2023)
Regrets Past by Krista D. Ball (2023)
Wraith's Revenge by Keri Arthur (2023)
Death Knell by Dina James (2023)
Death Coach by Sandra Wickham (2023)
Touched by Your Lies by Darien Cox (2022)
Crimson Desires by K.L. Bone (2022)
Sword of Darkness by Keri Arthur (2022)
Sorrow's Song by Keri Arthur (2022)
Guardian of Madness by Michelle Manus (2022)
Forsaking the Dragon by K.L. Bone (2022)
Faded by K.L. Bone & Greg Wilkey (2022)
Crown of Shadows by Keri Arthur (2022)
The Other Boyfriend by Darien Cox (2021)
Guardian of Shadows by Michelle Manus (2021)
Broken Bonds by Keri Arthur (2021)
Ambush by Krista D. Ball (2021)
Guardian of Chaos by Michelle Manus (2021)
Blackbird Crowned by Keri Arthur (2021)
Magic Misled by Keri Arthur (2021)
Deadly Vows by Keri Arthur (2020)
Blackbird Broken by Keri Arthur (2020)
Fallen by K.L. Bone and Greg Wilkey (2020)
A Cold Winter's Night by October Weeks (2020)
A Haunted Homecoming by October Weeks (2020)
Path to Damnation by October Weeks (2nd Edition) (2020)
The Damned by October Weeks (2nd Edition) (2020)
Tempting Fools by Darien Cox (2020)
Demon Dance by Keri Arthur (2020)
A Ghostly Request by Krista D. Ball (2020)
Wicked Wings by Keri Arthur (2019)
A Magical Inheritance by Krista D. Ball (2019)
Burn by Keri Arthur (2019)
Dark Scorpio by October Weeks (2019)
Demon's Dance by Keri Arthur (2019)
Undying Embrace by K.L. Bone (2019)
Scattered Stars by Sara C. Walker (forthcoming)
I Saw You First by Darien Cox (2019)
Cursed by Keri Arthur (2018)
Unlit by Keri Arthur (2018)
The Pumpkin Patch by Darien Cox and Kade Boehme (2018)
Hunter Hunted by Keri Arthur (2018)
Releasing the Dragon by K.L. Bone (2018)
Princess of the Rose by K.L. Bone (2018)
Caught in Your Wake by Darien Cox (2018)
Embracing the Dragon by K.L. Bone (2018)
Hell's Bell by Keri Arthur (2018)
The Black Tide by Keri Arthur (2017)
Made to Serve a King by Marie Dees (2017)
Liberate by Krista D. Ball (2017)
Steelflower at Sea by Lilith Saintcrow (2017)
Static by Darien Cox (2017)
The Indoctrination (2nd Edition) by K.L. Bone (2017)
Silver Rose by K.L. Bone (2017)
Guys on the Bottom by Darien Cox (2017)
Shadow of the Rose by K.L. Bone (2017)
Gods and Ends by Devon Monk (2017)
Blood Kissed by Keri Arthur (2017)
Stirring Creatures by Darien Cox (2016)
Aequitas by October Weeks (2016)
Trapped in Your Storm by Darien Cox (2016)
The Marked by Lilith Saintcrow (2016)
Blood Family by Krista D. Ball (2016)
Heir to the Defendants by K.L. Bone (2016)
The Duchess by October Weeks (2016)
A Matter of Trust by Judy Bagshaw (2016)
Deep in Your Shadows by Darien Cox (2016)
Blood Rose by K.L. Bone (2016)
Over the River by October Weeks (2016)
Safe in Your Fire by Darien Cox (2016)
Big Fat Lies (2nd Edition) by Judy Bagshaw (2016)
An Appetite for Seduction (2nd Edition) by Paige Bennett (2016)
Focused Desire (2nd Edition) by Paige Bennett (2016)
Lust and Found (2nd Edition) by Paige Bennett (2015)
Cheek to Cheek (2nd Edition) by Paige Bennett (2015)
Heart of the Rose by K.L. Bone (2015)
Black Rose (2nd Edition) by K.L. Bone (2015)
Second Chances: Jack and Gillian (2nd Edition) by Judy Bagshaw (2015)
Obsession (2nd Edition) by Paige Bennett (2015)
Beautiful Music (2nd Edition) by Paige Bennett (2015)
Victim of Love by Darien Cox (2015)
Never Been Loved by C.M. Kars (2015)
Rose & Thunder by Lilith Saintcrow (2015)
Heir to Koloso by K.L. Bone (2015)
Heir to Kale (2nd edition) by K.L. Bone (2015)
Guys on the Side by Darien Cox (2015)
Kiss of Life by Seleste deLaney (2015)
Never Been Nerdy by C.M. Kars (2015)
Fit for the Job by Darien Cox (2014)
Never Been Kissed by C.M. Kars (2014)
Guys on Top by Darien Cox (2014)
The Quill and The Crow by Lilith Saintcrow (2013)
SquirrelTerror by Lilith Saintcrow (2013)
Spirit Shapes by Marilyn Meredith (2013)
Seducing Professor Coyle by Darien Cox (2013)
Dogs of War: Vertigo by Frances Pauli (2013)
The Antithesis Spell by Nova Chalmers (2013)
Beauty by Nova Chalmers (2013)
Edges by Darien Cox (2013)
Time Heals by Dina James (2013)
Teeth of Gods by Adrienne Jones (2013)
Spiders from Memory by Frances Pauli (2012)
Echo Location by Frances Pauli (2012)
Cameraman by Darien Cox (2012)
Light in a Dark World by Dina James (2012)
Body Surf by Darien Cox (2012)
Kiss of Death by Seleste deLaney (2012)
Fluid Motion by Darien Cox (2012)
The Fly in Paradise by Frances Pauli (2011)
All Wounds by Dina James (2011)
Seeded by Adrienne Jones (2011)
A Moth in Darkness by Frances Pauli (2010)
Sacrament of Night by Louise Cooper (2010)
Moonset by Louise Cooper (2010)